Destination -
Kingdom of Tonga


We've visited Tonga twice, once in 2004 and again in September/October 2010. An overview of Tongatapu follows. If you have any questions about Tongatapu or comments about the information, feel free to contact us here.

The Kingdom of Tonga is made up of over 176 islands, only 52 of those are inhabited. The country is divided into four island groups - Tongatapu, Ha'apai, Vava'u and the Niuas. Tongatapu is the main island and has a population of approximately 69,000, about two thirds of the total population. Nuku'alofa (Abode of Love) is on Tongatapu and it is the Kingdom's capital.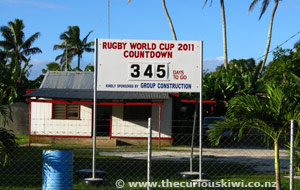 Tonga is a naturally beautiful country with white sand beaches, volcanic islands - Niuatoputapu and Niuafo'ou, Mapu'a 'a Vaca blowholes and it's possibly the only country in the world with a "Village of Snorkelling Pigs". Between July and October whales mate and calve in the warm waters.


Currency - Pa'anga (TOP)
All prices quoted are in Tongan currency. NZ$1 buys approximately TOP$1.30 as at October 2010. The exchange rate makes Tonga a great value destination.




Climate
The wet season is November to April and this is also cyclone season, however the majority of cyclones occur between January and March. May through October is the best time to visit and the average temperature is around 25 - 29 degrees celsius.


Language
Hello - Malo e leilei
Thank you - Malo

Tongan is the official language but English is widely spoken. Pick up a "Some Useful Tongan Words & Phrases" brochure from the Tonga Visitors Bureau on Vuna Road or do some research before you leave home.
Nuku'alofa
Nuku'alofa is the Kingdom's industrial and commercial hub as well as the centre of government and home to the Royal family. A variety of eateries, government agencies, retail stores and the Talamahu market are sprinkled around the six or so streets that make up the relaxed town centre. Walk down Vuna Road and along the waterfront in the early morning or evening for views of palm fringed islands across the bay.


The majority of Tonga's population lives in Nuku'alofa and its surrounding villages. Outside Nuku'alofa the Island is comprised of farm land, small villages, plenty of churches and extensive coastline. As you drive around the Island you will see colourful cottages on large sections full of tropical flowers, abandoned cars, chooks, piglets and children. You'll pass makeshift kiosks set up by enterprising locals selling coconuts, watermelon and vegetables.
Talamahu Market, Salote Road (Monday-Saturday, early morning - 4.30pm)
Talamahu market is a must visit. Outside the market coconuts, pineapples, taro and other fruit and vegetables spill around groups of women and children. Inside the market fruit and vegetables are laid out in orderly piles on wooden tables. You will also find stalls selling handcrafted handbags, woven baskets, trays and mats, carved wooden items and jewellery. Upstairs is clothing and more jewellery. Please note: Bargaining is not practiced in Tonga, it will be considered ill-mannered if you ask for a discount.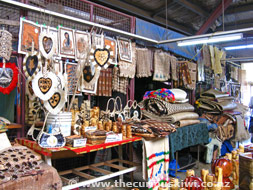 If you are particularly interested in handcrafted items I also recommend Langa Fonua Handcrafted Souvenirs next to Friends Cafe on Taufa'ahau Road. The Catholic Womens League Handicraft Centre on Vuna Road is also worth a visit, it's about a 25 minute walk down the waterfront from town. (I think the centre is closed on Monday, you might like to double check its opening hours and days at the Tonga Visitors Bureau on Vuna Road).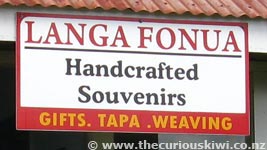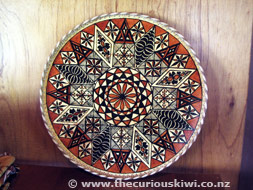 Tongan National Centre


www.tongaholiday.com
The Tongan National Centre wasn't operating fully when we visited in 2010. The museum was open and displays include a room of photographs and paintings of the Royal Family, including Queen Salote (1900 - 1965). Queen Salote became the Kingdom's Queen at the young age of 18, she was much loved and respected by the Tongan people and you will see reminders of her around the Kingdom - Queen Salote College, Queen Salote Memorial Hall and Queen Salote Wharf. Queen Salote hosted Queen Elizabeth II and Duke of Edinburgh in 1954, a celebratory feast was attended by over 3000 people.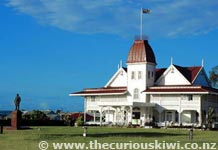 The museum also has information about William Mariner who was captured by Tongans and raised as part of a Tongan family for around four years (1806 - 1810). On his return to England William Mariner dictated an account of his time in Tonga. According to Wikipedia there are three versions of this book, two versions published relatively recently are The Tonga Book by Paul W Dale and Tonga Islands: William Mariner's Account by John Martin. An Amazon review of Paul W Dale's book notes that many things William Mariner described are still the same or recogniseable today.

Also on display at the museum are historical artifacts, a tapa wedding dress and photographs of early village life in Tonga.
(Entry to the museum is free but donations are appreciated)



There were no demonstrations of tapa making, weaving or carving at the National Centre when we visited but ask at the Visitor's Bureau to find out what's on. A Tongan feast and traditional dance is held at the Centre most Thursday nights (unfortunately not the Thursday we were in town). The costs is $35, transfers can be arranged from $5.

Other Tongan Feasts held on Tongatapu (information courtesy of Tonga Visitors Bureau)
'Oholei Beach and Hina Cave Feast and Show, Wednesday and Friday at 6.30pm. $35, transfer $15. (Lonely Planet's current recommendation).

Vakaloa Beach Resort, Friday at 7pm. $35, transfer cost negotiable.

International Dateline Hotel, Wednesday at 7pm, $30 (may be cancelled for less than 20 guests).

Liku'alofa Beach Resort, Wednesday and Friday at 7pm. $35 with free pick up.

Good Samaritan Inn, Friday at 7pm. $25, transfer negotiable.
(The photos below are of a feast and traditional dance show we attended at the Good Samaritan in 2004).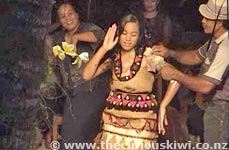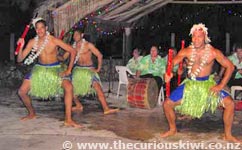 Day trips from Tongatapu
Fafa Island Resort


www.fafaislandresort.com
If a stay at Fafa Resort doesn't fit your budget you can visit for the day. A return speed boat transfer (25 mins each way) and a dish from the lunch menu is $70, drinks and dessert extra (choose the cheapest dish on the menu and you might get dessert).



Swim in the crystal clear water and have lunch and drinks beside the sea. The island is small and you can walk around it in 15 minutes or so. The resort and island are well maintained, as visitors for the day we couldn't explore too much but if you judge a property by its most basic facilities, ie. the toilets, it gets the thumbs up.


Pangaimotu Island Resort
www.tongaholiday.com

Pangaimotu is especially popular on Sunday when almost everything is closed on Tongatapu. Boats leave Faua jetty on Sunday at 10, 11, 12 and 1, returning at 4,5 and 6. It's a quick 10 minute trip and costs $20 return (you are asked not to take your own food and drink to the island). We visited on a Sunday and it was a great day out. There's good snorkelling around the ship wreck that's close to the shore, and a big rustic bar and restaurant with a laid back and relaxed atmosphere.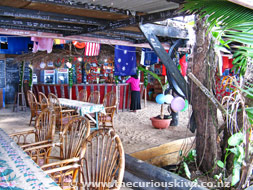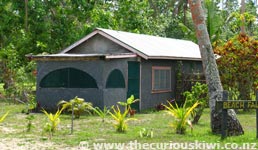 Well priced burgers, tropical fruit platters, fish 'n chips and 'ota 'ika (raw fish in coconut milk) are some of the dishes on the menu. You can leave your mark on the graffitied beams in the bar or claim a patch of sand on the beach if you want some peace and quiet. As far as accommodation and facilities go, Pangaimotu may be low on luxury, but if you're a backpacker it might be just what you're looking for.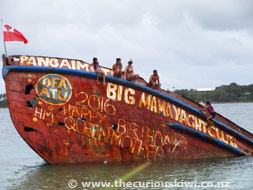 'Atata Island - Royal Sunset Island Resort


www.royalsunset.to
'Atata Island is 10km from Nuku'alofa and a 30 minute boat ride across the harbour. It's a small island with a fishing village at one end and Royal Sunset Island Resort at the other. We stayed at the resort in 2004, recent Trip Advisor reviews report that the resort is being renovated. The photos below will give you an idea of what the island and resort look like. Day trips to Royal Sunset are possible, ask at your accommodation option or at the Visitors Bureau for details.



The impressive main fale at Royal Sunset has a bar and dining area.

There is a swimming pool and staff can arrange fishing, scuba diving and sailing trips for guests.







Ha'atafu Beach Reserve


A number of accommodation options are on the beach at Ha'atafu including the recently relocated Heilala Lodge. Vakaloa Beach Resort, Ha'atafu Beach Resort and Liku'alofa Beach Resort are other options. We were going to catch a bus to Ha'atafu for a day trip but hired a car instead. It's easily a 30 minute drive from down town Nuku'alofa to Ha'atafu and it would be a hot wait for a bus back to town as buses are infrequent. We called in to Treetop Bar at Liku'alofa Beach Resort for a drink, it's a lovely spot that overlooks a seawater swimming pool and the beach.



We stayed at Heilala Lodge in 2004 when it was located at Tofoa. Recent Trip Advisor reviews still rave about the lodge and its great new location on Ha'atafu beach. If you're looking for a bed 30 minutes away from it all, want to snorkel off the beach, watch whales from the shore (in season) and maybe even get in some surfing, Ha'atafu could be the place for you. The photos below were taken in 2004 however from photos I have seen of the new Heilala Lodge the fale styles are similar.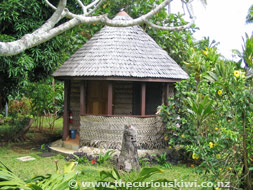 Tongatapu Island Tour
The island of Tongatapu is small enough that you can see the majority of natural sights on a day tour. We did a great tour organised by Heilala Lodge (in 2004). The trip included visits to the following:

Mapu'a 'a Vaca blow holes
The blow holes are located near Houma, around 14 kilometres from down town Nuku'alofa. As waves break, sea water is pushed up through vents sending jets of water surging toward the sky. The blow holes stretch around five kilometres of coastline, when the sea is rough the water can shoot up to 30 metres in the air. We returned to the blow holes on our latest trip (they're not too far from Ha'atafu if you have a car), the blow holes are still as impressive as ever.
Captain Cook's Landing Site (Holonga village)
Legend has it that Captain Cook visited Tonga in the 1770s on more than one occasion. In 1777 he is said to have anchored the Endeavour in a lagoon near Holonga village and had a nap under a banyan tree. Due to the agreeable nature of the people he met on his journey Captain Cook is known for labeling Tonga "The Friendly Islands". Legend has it though that when Captain Cook visited in 1777 various nobles were arguing over who should have the opportunity to attack his vessel and kill off the sailors. Had he been aware of this he may well have been less complimentary about the island and its inhabitants.
Lunch
We stopped at a road side stall to purchase coconuts, watermelon, bananas and pineapple for lunch. The fruit was set up on a table outside a family home and a toot on the horn brought someone out to take the money - not a bad way of doing business.
Langi Tombs
We were told that in years gone by village chiefs were buried here and the practice at the time was that two commoners were chosen to take the chief to the burial ground and they were not allowed to return to their village, they had to be buried with the chief. (For more information about burial grounds pick up a "Tongan Archaeology Lapaha - The Royal Village" brochure from the Visitors Bureau on Vuna Road).
Ha'amonga 'a Maui Trilithon
Erected in 1200AD (don't quote us on that!) the Trilithon is two large pillars of stone that stand vertically upright supporting a horizontal length of stone. This may not sound like anything extraordinary, but each stone weighs about 40 tonnes. There has long been speculation as to what this structure is however it's generally accepted that it is used for determining the seasons.
'Anahulu beach & limestone cave
When we visited the cave an old ticket office was decaying outside, there may be a charge to enter these days. There are steps carved inside the cave so that you can walk into the humid interior dripping with stalagmites. At the base of the cave is a large pool, only the children in our group were brave enough to swim in it. Take a torch if you have one.

Kolovai Village - known for its flying foxes (fruit bats)
It's quite hard to see the bats but if you look closely you'll see them folded into triangles and hanging from tree branches. During the day they sleep but at dusk they unfurl their wings and fly off in search of fruit. The bats are protected as the only land mammal native to Tonga and they are the official property of the King.
Talafo'ou - "Village of the Snorkeling pigs"
During our stay on 'Atata Island we saw lone pigs out snorkelling for shell fish but at Talafo'ou we saw whole families out snorkelling for their daily catch.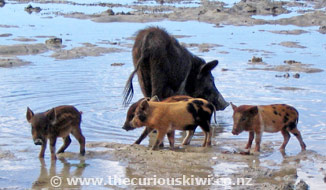 Eating Out
A'Hopanilolo Technical College-Pot Luck Training Restaurant

(look for sign on Vuna Road, 20mins walk from town)
If you're looking for somewhere a little different to dine try Pot Luck, your meals will be prepared and served by hospitality students in training. Lunch is served Monday - Friday (12 - 2pm) and dinner is served on the second Monday of the month. We highly recommend you visit or phone to make a reservation.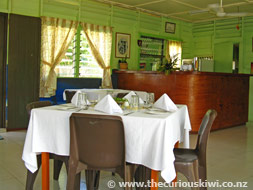 We were offered a choice of chicken or fish for the main, and dessert was waffles with butterscotch sauce. Food, service and setting were excellent. Cost - $32 for two mains, one dessert and two drinks. At the end of the meal you will be given a comments slip to complete. I happened to have a copy of Gordon Ramsay's autobiography Humble Pie and I left it with a tutor so that she could pass it around to students who might like to read it. If you have any food related DVDs, cook books etc that you would like to pass on to the College I am sure they would be appreciated.



Cafe Escape & Tourist Centre

, Fund Management Building, Taufa'ahau Road, town centre
We really like Escape, it's a modern, air conditioned oasis and it's popular with visitors and locals. As well as serving breakfast and lunch, Kingdom Koffie is on the menu and they slice up generous portions of banana and lemon cake. A toasted panini is around $10, toasted sandwich $4+, slice of cake $5. There's also Internet access. Open Monday - Saturday.





Friends Cafe & Tourist Centre

, Taufa'ahau Road, town centre
www.friendstonga.com
Friends is a long time favourite with travellers and expats. Fans circulate inside and outside is a leafy courtyard. Friends are open for breakfast, lunch, dinner and anything in between. There is a variety of food on the menu as well as slices and muffins in the cabinet. Coffee/tea is $3.80+, smoothies $7.80, paninis $10. You can book tours and accommodation at the Tourist Centre, and use the Internet - visit their website for more details. Open Monday - Saturday.



Little Italy Hotel & Restaurant

, Vuna Road (west side of the Royal Palace, 10 or so minutes walk from town centre)
www.littleitalytonga.com

Restaurant
Little Italy has a bright and airy restaurant with large Italian paintings on the walls and doors opening out to the waterfront. We had a pizza ($18-$22) for lunch and not surprisingly there are also pasta dishes ($17) and Italian wine ($6 glass) on the menu, as well as seafood and steak dishes. Gelato is an option for dessert as well as tiramisu and apple pie ($7). (You need to add 15% tax to all of the restaurant prices). We really liked Little Italy, service was good, food and drink well priced and it was a perfect spot to have lunch on a sunny day. Open Monday - Saturday and Sunday for guests only.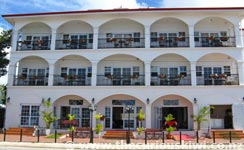 Hotel
I picked up a couple of handy hints from Trip Advisor traveller reviews about Little Italy - the standard rooms are small (and they look it from the photos on their website), ocean view rooms are spacious though. One traveller mentioned free bicycles for guests which would be handy. A note on the swimming pool (a rare beast in Tongatapu), it's really narrow and close to the restaurant so it's not suitable for children to be making a ruckus in.



Fish 'n Chip shop

(Vuna Road, close to Waterfront Lodge)
We didn't sample the fish 'n chips or the spicy chicken, but the shop is cute and tidy and there's an outdoor table and chairs. "Special lunches" are also served. The shop closes early - 6pm.





Waterfront Lodge

, Vuna Road (20 minutes walk from town centre)
www.waterfront-lodge.com
We stayed at Waterfront Lodge and had dinner in their restaurant twice. Italian food is a specialty and although we're no experts on Italian food, we know what we like and we liked the pasta dishes at Waterfront. Waterfront isn't one of the cheaper restaurants on Tongatapu with meals from $23+, but it's a delicious option we think. There is a small bar inside as well as tables and chairs outside so you can call in for a cocktail, smoothie, wine or beer and check out the menu. The restaurant is open for lunch by reservation only, but open 7 nights for dinner.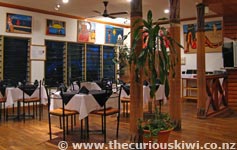 Beach Hut and Reef Cafe

(opposite Waterfront Lodge, in the car park at the wharf)
Beach Hut and Reef Cafe are two small, bright and airy cafes close to Faua jetty (where you catch boats to Pangaimotu, Fafa, Royal Sunset). Reef Cafe serves ice cream on the cone and decadent (and delicious) slices of chocolate and coconut cake. Reef Cafe is also open on Sunday night for dinner.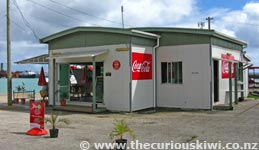 Billfish Bar & Restaurant

, Vuna Road, wharf end (25 minutes walk from town centre, or get a taxi)
We recommend heading to Billfish for a burger and a beer on Friday night, it's a popular meeting place for after work drinks and dinner. A live band plays easy listening music on Wednesday and Friday nights - the Eagles are a favourite. Steinlager is on tap - $5 for a handle, or try a bottle of the local beer Mata Maka, $6 (brewed in Auckland). Billfish also blend a great smoothie, and burgers ($10-$12), steak, seafood and curry dishes are on the menu. There is security on the door, friendly staff and a big screen for rugby and sports matches. Open Monday - Saturday (enquire about Sunday hours).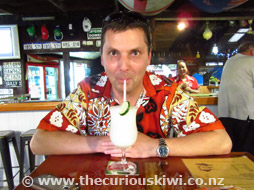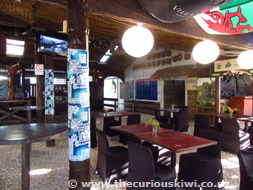 Self Catering
Talamahu Market

, Salote Road, town centre
The place to purchase coconuts, pineapples, bananas, watermelon and vegetables.



Roadside stalls


Quite a few people set up stalls on the side of the road selling fruit and vegetables.



Supermarkets


Packaged food is imported so some items are expensive. A few examples of supermarket prices: 150g potato chips $3.60+; 30 pack of Bell Tea $2.40; plain packet of biscuits from $2.20; one litre of UHT milk $3.70; $16 for 6 pack of 1.5 litre bottles of water; $3.30 for 1.25 litre of coke/fanta/sprite; can of Watties spaghetti $2.50; 500g peanut butter $7.20; jam $4, 1kg rice $4.



Supermarket locations
Molisi Supermarket, one block behind the International Dateline Hotel *
JM Supermarket, opposite the Seven Day Adventist Church on Taufa'ahau Road
Si'i Kae Ola Supermarket, next to the Seven Day Adventist Church on Taufa'ahau Road

*The closest supermarket to the town centre that we found is Molisi Supermarket.



Roadside Shops


Each village will have at least one roadside shop that sells packaged goods, milk, water, etc.



Wheels
Bicycle Hire


We hired bicycles from the Bicycle Hire office next to the International Dateline Hotel on Vuna Road. The hire rate was too cheap at $10 full day and $5 half day. The gentleman hiring the bicycles could not have been nicer.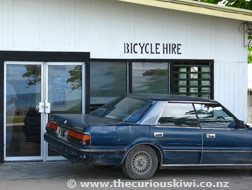 Car Hire
On the spur of the moment we hired a car for the day from Fab Rentals on Salote Road in Maufanga. Car hire is inexpensive* and we paid $50 plus petrol for a Honda Odyssey, petrol is around $2.45 per litre. The staff at Fab were great, if you visit their office in person you might see how the phrase "organised chaos" could apply. For information about other hire companies and driver licence requirements follow the Fab Rentals link above. *(One day car hire is not that cheap if you include the cost of obtaining a Tongan driver licence, around $60). (Also see the note on condition of roads and cars below).

Taxis & Buses
Both taxis and buses are privately owned, we didn't use either service but like most things in Tonga they will be reasonably priced. The main bus station is opposite the Tonga Visitor Bureau on Vuna Road. On Sunday there are no buses, it's possible that your accommodation provider may be able to arrange a taxi.

A note on the condition of some cars and roads in Tonga - There are some cars on the road that would be in a wreckers yard if they were in New Zealand, fortunately for all concerned the speed limit is 40km/h in town and in villages, and slightly faster on the open road. The busier roads tend to be in good condition however get off the well driven track and there are plenty of pot holes, take care and drive slowly.



Accommodation
Waterfront Lodge

, Vuna Road (20 minutes walk from town centre)
www.waterfront-lodge.com
We spent seven nights at Waterfront Lodge in a garden view room. The rooms are spacious and equipped with a fridge, tea and coffee making facilities, telephone, large shelving unit, wardrobe, chair and desk, small satellite TV and air conditioning. The bathrooms are new and modern and the showers have plenty of jets. Each room has a balcony with outdoor table and chairs. If you like sea views consider paying extra to see the palm fringed islands across the bay, and activity in the harbour opposite, sea view rooms are close to Vuna Road though so there may be some road noise. Gauguin prints and bright paintings are hung throughout the lodge and wooden floors and plenty of natural light make it a bright and breezy place to stay.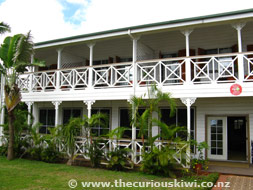 Continental breakfast was included in the rate and we had a choice of cornflakes or weetbix, fruit and yoghurt, toast and spread, tea or coffee. Cooked breakfasts cost extra. Lunch in the restaurant is by reservation only, but dinner is served every night.

Location, location, location as real estate agents say, location is one of the main reasons we chose to stay at Waterfront Lodge. The lodge is close to:
Faua jetty - catch boats to Pangaimotu, Fafa and Royal Sunset Island Resorts. Catch ferries to 'Eua, Ha'apai and Vava'u nearby.



Eating options - Billfish Bar & Restaurant, Pot Luck Restaurant, Fish 'n Chip shop, Beach Hut and Reef cafe.


Shopping - Catholic Womens League Handicraft Centre; Saturday morning flea market.


Self catering (note that there are no cooking facilities at Waterfront Lodge) - stalls selling fruit and vegetables are nearby. The Tu'imatamoana Fish Market is at the wharf opposite. A street side shop selling packaged goods, milk, water etc is two minutes walk down Vuna Road in the direction of town. A small supermarket is in the green building with the Melie-Mei-Langi Money Transfer sign on the front, it's located one street behind Waterfront Lodge, walk 5 minutes down Salote Road in the direction of town.


Car hire/Petrol station - Fab Rentals is one block behind Waterfront Lodge on Salote Road, walk away from town. A BP petrol station is also located on Salote Road, head in the direction of town.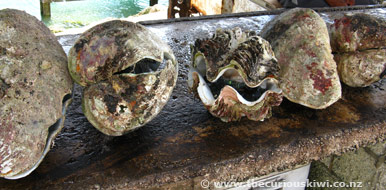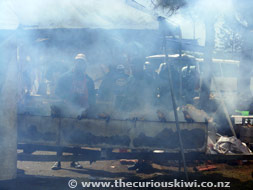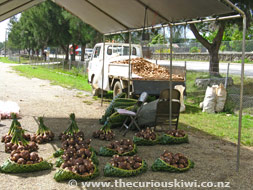 Other accommodation options in the area:

Sails Lodge & Restaurant, Vuna Road (in the process of being refurbished in October 2010). The Villa, Vuna Road.

For information about Heilala Lodge see the Day Trip section (Ha'atafu Beach) and see Eating Out for more information about Little Italy Hotel and Restaurant.



Budget/mid range options


Alibaba's Guesthouse, off Tupoulahi Road, Ngele'a is a family owned guesthouse and Lonely Planet's current pick of the mid range accommodation options. Island tours and fishing trips can be organised and they have rooms with either private or shared facilities. There is an onsite cafe/restaurant and a souvenir store selling locally made craft and carvings.

Toni's Guest House is a popular budget favourite. Apparently it has all but taken over the village of Tofoa, 3km from downtown Nuku'alofa. Some how we managed to miss it on our whirlwind bicycle tour but recent Trip Advisor reviews are mostly favourable. Toni's also run island tours and provide transport to/from Nuku'alofa for $1, or catch a local bus.

Other options include Misa's Guest House (Misa's Trip Advisor reviews are here) and Winnie's Guest House.

Old Tonga, Popua
We read about Old Tonga in the Jasons visitor guide, it is said to resemble a traditional village and offer budget accommodation. We drove out to have a look around but it was locked up, staff at the Visitor Bureau advised that it is usually open. If you think you might like to stay at Old Tonga I strongly recommend that you book alternative accommodation for a night or two and then go and see if it is what you are looking for.



Self contained


Nukuma'anu Cottages, Vuna Road. Cafe Escape advertise this self contained option (it's also recommended by Lonely Planet). Standard and deluxe air conditioned units are from $140 (including tax). Little Italy Hotel and Restaurant are in the area. Email rnakao@fexcopacific.to for further information.


Trivia
From 1984 to 1998 it was possible to purchase Tongan passports and citizenship for US$20,000. Imelda Marcos is said to have purchased a passport along with citizens from China, Taiwan and Hong Kong. The new passport holders may have thought they could get easy access to New Zealand, Australia and the United States however these countries chose not accept the fee paying passport holders across their borders. Selling citizenship was a scheme masterminded by a previous Tongan King. The scheme proved successful in generating a considerable amount of money however the King was persuaded by an American to invest the majority of funds in dubious US companies. The money disappeared but many "new" citizens now call Tonga home. (Source: old Lonely Planet publication)


Sunday is sacred and almost everything closes. Your options on Sunday include attending a church service or visiting Pangaimotu Resort (more information above). There are no buses and no taxis (unless your accommodation provider can organise one for you). Only a few cafes/restaurants located outside hotels/resorts open on Sunday.



You will find over 500 churches in Tonga.



According to the trivia in Friends Cafe - Tonga has the most PhDs per capita of any country in the world. Tonga's monarchy is one of the world's oldest, the first Tu'i Tonga, Ahoeitu came to power in 950AD. Tonga has never been colonised.


Tonga produces its own coffee - brands include Kingdom Koffie and Tu'puanga.



The local Friendly Islands Lager is Mata Maka (farewell Ikale).



If you want to drink the juice from a coconut, apparently you can only open one of the three holes, try the hole on the biggest third. You get milk from the coconut by squeezing it out of the coconut flesh.


Kava powder is for sale at a shop in the departure lounge of Fua'amotu airport. We can't confirm whether you're able to take it through customs, nor whether it tastes like the real deal, if so let us know.
What to pack
Mosquito repellent
Reef shoes, also consider taking your own snorkel equipment
Sunscreen and sun hat
Small umbrella for impromptu showers and to use as a sun shade
If you're going to hire a bicycle you might want to pack your helmet as they're not provided
Drivers licence
Chippies, peanuts etc are expensive so you might want to take your own supply
Reuseable water bottle
Resealable plastic bags for camera/food storage
Torch and maybe some cutlery to slice up fruit and veges from market stalls
It's against Tongan law to appear in public without a shirt. Pack clothes with sleeves, long shorts, long skirts and dresses for women. Most Tongans swim covered up so outside resorts swim in shorts and t-shirt. If you intend to go to a church service pack a set of smart clothes and shoes.
A note on safety for solo female travellers - I don't recommend walking around alone after dark. Tonga like any country may not be safe for lone females in places where men congregate and alcohol may be present.
Further information
For additional information about Tonga check out Tonga Visitors Bureau, Lonely Planet's thorn tree travel forum and the latest South Pacific travel guides. Pick up a Jasons Kingdom of Tonga Visitor Guide at the airport (or request a free guide before you leave home). For accommodation reviews visit www.tripadvisor.com.



Personal Note
I think Tonga gets a bad rap at times, particularly the main island Tongatapu and its capital Nuku'alofa. When I visited a travel agent to enquire about Tonga the agent commented that they didn't often get enquiries about Tonga. Her colleague went on to say that it was because she told people not to go (even though she hasn't visited Tonga herself). The travel agents know their client group a lot better than I do of course but I have also read comments suggesting visitors leave the main island, and Nuku'alofa, as soon as they can. People travel for their own reasons and have expectations (or not) about the countries they visit. However I hope the information and photos above show that the main island of Tongatapu, and its capital Nuku'alofa, are well worth a visit for a few days and are not just a launching pad to 'Eua (part of the Tongatapu group), Ha'apai, Vava'u and the Niuas.

We did think that there was a bit more rubbish around Nuku'alofa than when we first visited in 2004 and as mentioned some cars on the road would not get a warrant of fitness in New Zealand. It's also a shame to see a couple of abandoned properties along the scenic waterfront. The "Concrete Parks" that Lonely Planet highlight in their South Pacific Guide looked like tidy foundations for new buildings (but are the result of a pro-democracy riot in 2006). There were less "Concrete Parks" than we expected, although there is at least one new building near the town centre and a multi level building under construction near Cafe Escape, so rebuilding is well underway.

Tonga isn't the destination for you if you're looking for a resort with a swim up bar and a bar person to shake you up a cocktail. However if you are prepared to take a country as you find it, I'm sure you will be more than pleasantly surprised with what the Tongan people and the Tongan islands have to offer. As for us, we would like to return to Tongatapu and also explore the other island groups, Chathams Pacific are apparently doing a great job as Tonga's domestic airline.

Comments to date: 3. Page 1 of 1.
Rachael

1:58pm on Thursday, August 9th, 2012

Thanks for the links Andrew. We're keen to see the properties that will be listed on propertytonga for future holidays in the friendly islands.

Andrew

8:28pm on Monday, August 6th, 2012

Great work. This is an excellent resource. Can I suggest a couple more: www.touchoftonga.com to pick up a Tongatapu map, and www.propertytonga.com to arrange holiday home rental. Looking forward to your updates!

MiBri

1:08pm on Tuesday, November 15th, 2011

Hi Rachael & Mike,
just wanted to let you know that I really appreciated your TONGA page:
nicely written, very useful information, great photos! All very recommendable indeed
and I know what we are talking about, 'cause I have been to Tonga many a times.
So, congratulations & thanks from far away Germany.
Cheers & all the best,
MiBri