Destination -
Independent Samoa
Talofa, if sleeping beach side in a rustic fale on the cheap appeals then Samoa could be the destination for you. It's not the place to party up large and late on the beach though, it's a place to snorkel, swim, eat well and acclimatise to island time. With a hire car (or patient use of the bus service) you can also explore the nature made attractions like the Papase'ea sliding rocks and Papapapai-tai falls. Day tours can be arranged from most accommodation providers and a personalised tour in a taxi is also an option on both 'Upolu and Savai'i. If you have a particular interest like hiking, diving, kayaking or surfing there are tour companies like Island Explorer and Samoa on Foot that run organised adventures. Please note - Most of the land and water is owned by villagers, ask for permission before you go exploring, you may also need to pay a small fee.

If you're looking for the kind of holiday that involves lying by the pool with a book and beverage there are a few upscale accommodation options - check out www.samoa-hotels.ws. If you are a solo traveller the rustic fales are particularly good value because charges are per person rather than per fale. It will cost between 40 - 80 tala per person for an open sided fale, breakfast and dinner. Please note - The village of Lalomanu on 'Upolu was a popular spot for budget travellers. Sadly Lalomanu was severely damaged by a tsunami in September 2009, check with a travel agent and visit the Lonely Planet thorn tree forum to get the latest information on rebuilding in Lalomanu and other areas damaged by the tsunami.



The following information and photos were compiled on our 10 day trip to Samoa in June 2009. We pre booked 5 nights in Apia as part of a package deal (more detail below) and organised a 4 night stay at Manase and Lalomalava villages on Savai'i at the Hotel Association in Apia.

For additional information about Samoa visit a local travel agent, the Samoan Tourism Authority and check out the latest Lonely Planet South Pacific guide (published mid 2009 and pre tsunami). You can ask specific questions on Lonely Planet's thorn tree forum and read accommodation reviews on www.tripadvisor.com. For flights visit Air New Zealand or Virgin Australia.

***************************************************************************************************
***************************************************************************************************

A few facts
Hello: Talofa
Goodbye: Tofa
Language: Samoan is the official language but English is widely spoken.
Capital: Apia on 'Upolu Island. Savai'i is the largest island but less populated than 'Upolu.
Population: Approximately 180,000, 75% live on 'Upolu.
Dry season: May - October
Wet season: November - April
Average temperature: 26.5
Humidity: 80%
Currency: Tala (dollar) sene (cent)


Tourism website: www.samoa.travel (Samoa Tourism Authority)
Accommodation website: www.samoa-hotels.ws (Samoa Hotels Association)
Transport: Cheap public buses, numerous good value taxis, car hire
Faleolo International Airport: 35km from central Apia
Banks: ANZ & Westpac branches in Apia ('Upolu) & Salelologa (Savai'i), ATMs also available.
Sunday: Sunday is dedicated to church, family, food and rest. Bars and many eating establishments will be closed.
Jason's "Samoa Visitor Map" & "Visitor Guide 2009": Look out for a free copy at Auckland airport (after Immigration) or in Samoa.

****************************************************************************************************
****************************************************************************************************


'Upolu - Apia
Apia, Samoa's big smoke is where you will find Marketi Fou the 24 hour market bursting with locals, food stalls, hand made souvenirs and grocery items. Adjacent is the main bus station full of colourful buses that head in all directions around the Island (you can pick up a bus schedule from the Samoa Tourism Authority on Beach Road). The flea market is basically Marketi Fou without the food and is a short walk away on the waterfront (Beach Road). Bargaining is not part of Samoan culture which also means that those sometimes annoying sales pitches common on the streets of Asia are absent as well.





Robert Louis Stevenson Museum & Mt Vaea Scenic Reserve


www.rlsmuseum.com (open Mon-Fri, 9-4pm; Saturday 9-12noon. Museum admission: 15 tala. Gardens & Mt Vaea free)
The museum is the restored former residence of Robert Louis Stevenson, a Scottish author who spent the last four years of his life living in Samoa. He died on 3/12/1894 at the age of 44. After Robert Louis Stevenson's death his home was sold to a German trader who made further additions to the property in 1897. Over the years the property was home to various government officials but it was damaged severely by two cyclones in 1991 & 1992. The residence was restored by the non profit Robert Louis Stevenson Museum Preservation Foundation Inc and opened as a museum in 1994.

Entrance to the museum includes an informative guided tour among antique furniture, first edition copies of the author's books, photographs and other memorabilia. Although Robert Louis Stevenson only spent four years in Samoa before his death he wrote quite a few novels during that time. He was also known as a kind and generous man as well as employer, he was much loved by the Samoan people and given the name Tusitala (teller of tales). Copies of his books are available to purchase at the small gift shop onsite.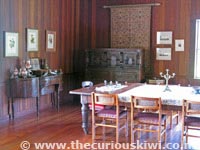 Robert Louis Stevenson was buried on top of Mt Vaea, next to the museum. His wife Fanny lived into her 90's and her ashes were returned to Mt Vaea to rest with her husband. You can climb to the top of Mt Vaea to see the tomb and get good views over Apia however wear sturdy footwear and be prepared for a hot and possibly slippery climb.

A taxi from central Apia to the museum will cost about 7 tala or catch a bus from the market.




Falemataaga (The Museum of Samoa)


Free admission, donations appreciated, usually open 10am - 4.30pm Monday - Friday
As connoisseurs of free and cheap attractions we were happy to wile away an hour or so at the museum. If you're interested in Samoa's road to political independence the museum is a good place to visit. We also discovered that the temperature of the sand or mud that turtle eggs are buried in determines whether the species of turtle in Samoa are male or female. A higher temperature creates a female and lower temperature a male. Looks like girls may rule with global warming.




Palolo Deep Marine Reserve, Vaiala Beach Road


You must visit the Marine Reserve at high tide to avoid getting cut and grazed by rocks and coral, and to avoid damaging the coral. The reef is about 100m or so from shore. We wore reef shoes and took our own snorkel equipment although snorkels, masks and flippers can be hired from the family that take the nominal admission fee. We left Palolo with one destroyed reef shoe and more than a few grazes even though it was high tide. We preferred snorkelling at Manase Beach on Savai'i because we were moving across sand until we reached the reef, although marine life is more plentiful at Palolo.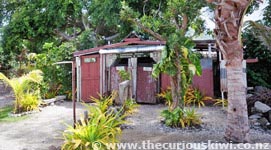 Tourism Authority & Hotel Accommodation Association


The Samoa Tourism Authority (open 9-5pm, Mon-Fri; noon Saturday) and Samoa Hotel Association (open 8-4.30pm Mon- Fri) are in the same building on Beach Road. We found the service and availability of information at both average. Unless you have pre-booked your accommodation we recommend that you check out www.samoa-hotels.ws (and/or Lonely Planet's South Pacific Guide 2009, Trip Advisor etc) before you arrive and pick out a couple of suitable accommodation options. Although the staff at the Hotel Association were very friendly, they were promoting certain properties and one property in particular did not live up to their rave reviews. When we visited there were also no accommodation brochures or any printed material about accommodation to take away and read at leisure.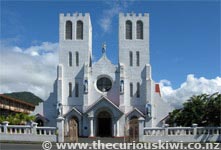 Food
Your options include eating with, and like a local at Marketi Fou and road testing dishes like palusami (baked coconut cream in taro leaves). If you need your coffee fix Sydney Side Cafe on Convent Street should satisfy you, it's popular with visitors to Samoa.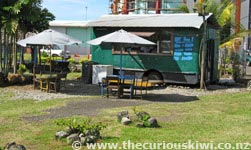 Cheap and good cafe fare can be found at Mari's on Beach Road (there is also Mari's mini mart next door). Mari's is hidden behind tinted windows and is excellent value - beverages come in large cups and there is a range of rolls and sandwiches to choose from. Daphne's close by charged a lot for what we ordered but that's the risk you take when you decide not to go back to a good find and instead go somewhere new.



Apia Yacht Club & Swashbucklers Restaurant

, Mulin'u Road
There's an outdoor deck at Swashbucklers ideal for drinking in the sunset. Dinner is served Tuesday to Saturday and there's a range of good value meals and desserts. Unless you have hired a car you will need to take a taxi to get there, we thought it was worth the trip.





Giordano's Pizzeria

, off Falealili Street (take away pizza available, open for dinner Tuesday - Sunday)
http://giordanos-samoa.com
We loved this place with its Italian themed courtyard, generous pizza and pasta servings and super nice staff. It's popular with locals and visitors alike and if you need to take a taxi (it's worth it) you might want to book to ensure you get a table, particularly on Sunday evenings when some of the other eating options are closed. If you're travelling solo this is the type of place you would feel comfortable dining alone as there are a few small tables on a slightly raised indoor deck.

Tip: If you are staying at the Insel Fehmarn Hotel Giordano's is across the road and if you are at the Samoan Outrigger it's a short walk away.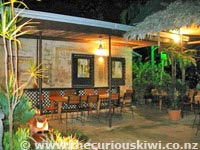 Other pricier and popular evening dining options in Apia include Sails, Paddles and Bistro Tatau. The Insel Fehmarn Hotel also has its own restaurant (very reasonably priced) as does Aggie Grey's Hotel & Bungalows, there is also a coffee shop at Aggie Grey's. The golden arches (aka McDonalds) have also made their way to Apia. Each village will also have a small store where you can buy snack food and water.



Drink
The waterfront is where to head for late night drinking, there is a cluster of bars on Beach Road, some with pool tables and music pumping into the night. Casual dress is all that's required and don't expect too much of your surroundings. Aggie Grey's Hotel and Bungalows is a short walk from the waterfront bars and has its own comfortable bar (it's not your cheapest option though as we were charged 6 tala for a can of Sprite in their coffee shop).



Accommodation
Insel Fehmarn Hotel


www.inselfehmarn.ws
We booked a good value package from an Air New Zealand Holiday Store in Auckland. The package included Air NZ flights, 5 nights at the Insel Fehmarn Hotel (with continental breakfast) and airport transfers for $730. The Insel Fehmarn is more functional than beautiful, it's a 1970's style concrete block complex with a swimming pool. The rooms are spacious and decorated with island inspired prints, curtains, bedding etc (the room standard rises slightly with each of the three levels, the top floor being the best). It's popular with business people and there is a business centre onsite.



What the hotel lacks in beauty it more than makes up for in other ways - the lovely staff were not only friendly but they had a good sense of humour and when you see the chef dancing behind his tourines you know he's happy to be at work. The hotel also provides free transfers to/from Apia which we appreciated given the heat and humidity. There's also an onsite restaurant serving good value lunches and dinners (and Giordanos is across the road). The hotel rooms also have a small kitchen with refrigerator and microwave if you want to self cater. Our package included continental breakfast however both cooked and continental were available from the buffet, this may not always be the case however other people have commented on this too so it may be an added extra the hotel likes to provide. We also appreciated being offered a complimentary breakfast when we arrived at the hotel after a late night flight from Auckland. All in all our experience at the Insel Fehmarn could not have been better. Note - Insel Fehmarn can be expensive if you book accommodation alone but as part of a package deal it can be excellent value. Visit Trip Advisor for recent hotel reviews.

Tip: If you are on a late night flight, pack a light change of clothes in your hand luggage and change into them on arrival at Apia airport. You may not be able to check in to your accommodation on arrival and it will be more comfortable if you're waiting around in light clothing.

Samoan Outrigger Hotel (www.samoanoutriggerhotel.com) is popular as a budget hotel package deal from NZ. We checked it out as we needed another night in Apia before returning to NZ (the Insel Fehmarn offered us a good rate so we returned). This property has more of an island look and feel to it however the cheaper rooms are small and stuffy, bathrooms are shared and room facilities are limited (pay more and you'll get more though). There is no onsite restaurant or bar for lunch or dinner (breakfast is served) and no transfers are provided into Apia. There is a swimming pool though and the main entrance / lounge area is airy and inviting. It is also rated highly on www.tripadvisor.com.





Aggie Grey's Hotel & Bungalows

(www.aggiegreys.com) is located on the waterfront and walking distance into Apia centre. There's a definite tropical feel here with cute garden bungalows and a large comfortable open sided bar and restaurant (and a coffee shop, a gift shop, tour desk, swimming pool .......). It's a less pricey option than its big sister Aggie Grey's Lagoon Beach Resort & Spa (www.aggiegreys.com) located close to the airport and the Savai'i ferry. Look out for package deals for these properties as the cheapest room rate is 318 tala for a single person. However if resort style accommodation is what you're after these two properties should be on your hit list.




Cheap & cheerful in Apia? Lonely Planet released its latest South Pacific guide mid 2009 (and pre tsunami) and it lists budget options. Also visit the Samoa Hotel Association website (www.samoa-hotels.ws), although this website does not include all of the budget options in Samoa. In addition check what properties travel agencies recommend and you will be able to find a fale to fit your budget. Visit Trip Advisor (www.tripadvisor.com) for accommodation reviews.



Savai'i
To get there:

You can catch a bus from behind Marketi Fou to the ferry for around 3 tala, a taxi will be 50 tala plus. Ferry: $12 tala each. You can sit either inside or outdoors and it will take about an hour to reach the wharf in Salelologa. (Salelologa is the main service centre on Savai'i. There are ANZ & Westpac banks, a market and a few eateries). Fly: To confirm if flights to Savai'i are still operating visit www.samoa.travel.



A note on transport:

If you are on a tight budget definitely use the public buses and also check out whether your chosen fale operator on Savai'i meets guests off the ferry (and if there is a charge). If you get a taxi from central Apia to the ferry and a taxi to Manase village for example, and do the same on your return trip, you will pay upwards of 240 tala. Doing the same journey by bus will be around 16 tala.



Getting to Manase from the wharf:

We caught the Manase bus for 5 tala to Manase Beach. The trip took about an hour even though the bus driver drove like an ex V8 super car winner. A taxi will cost at least 60 tala if you are going as far as Manase. (Check out the transfer options when you book your accommodation).

A note about the bus - it will probably be crowded and we did feel a bit of a nuisance with our back packs. If it's your first visit you might also feel anxious about the driver whizzing by your accommodation option without you knowing. Tell people the name of the village and the name of your accommodation option. If you're heading to the lovely stretch of beach at Manase, there are quite a few fale operators here so you won't miss yours and if you do it will only be a short walk away if you have entered Manase village. PS. The journey around the Island to Manase is worth staying awake for.



Manase
Manase has its own beautiful and deservedly popular stretch of golden sand where you will find Tanu Beach fales , Jane's Beach fales, Regina's Beaach fales, Vacations, Stevenson's at Manase plus a couple of other options. Despite the number of fale operations we would not have seen more than a dozen or so visitors during our walks down the beach.



Fales range from simple wooden structures with bedding and woven blinds (the most popular and plentiful option) to flash new self contained beach side suites at Stevenson's at Manase. Jane's Beach fales also has some enclosed fales with lockable doors. Bathrooms are shared and there will be a communal dining area, a couple of operators have their own bar and restaurant. The rate you pay will typically include breakfast and dinner, and sometimes lunch.



Stevenson's at Manase


Click here for their website
We booked a garden room via the Hotel Association in Apia and must admit it wasn't quite what we expected. The owner of Stevenson's told us that McConnell Dowall workers had stayed on his land some years ago and had erected temporary dwellings while they built the road around Savai'i. We're sure those temporary dwellings (that have seen much better days) were what we stayed in. (A recent Trip Advisor reviewer described them as "chicken coops" - it wasn't me!) The pros - they cost the same as a basic beach fale (70 tala per person) but they are enclosed, have electricity and their own toilet and shower (think basic and just functional). Watch the wonky floors and falling down doors. The cons - If you're expecting a quaint thatched fale in a garden of tropical loveliness you'll be disappointed. They are certainly not honeymoon material however it's all about expectation and if you take things as you find them you might even be pleasantly surprised at what you get for your tala.

The good news: Stevenson's is undergoing renovation and the garden fales are due for a makeover (which surely involves demolition!) They're also adding a swimming pool - there is no swimming pool as of May 2010, so this plan may have changed. If you want to pay more to have your own beach side villa or one of the new swanky suites you can. There are also some large fales with electric lighting and small balconies if you want to take the beach side open fale option. (May 2010 - some of the beach side open fales have had ensuites added to them).





Tusitala Restaurant & Bar


Stevenson's have excellent dining and bar facilities. We were very impressed with the food and were given a choice of three options for dinner, and the breakfast set us up well for the day. (The rates at Stevenson's include breakfast and dinner - you can have lunch in the restaurant for a reasonable price or you can walk down the beach to Vacations if you want a change of scenery). There is also a service station near Vacations although we didn't go inside to see what they sold but snacks at least I'm sure, and there's always the banana bus stops (see below).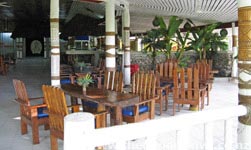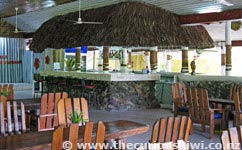 Manase Beach


The water is a beautiful clear aquamarine and is lovely and warm. We took some bread from breakfast and fed the small fish that swim close to shore. If you go further out at high tide the sand drops away to a reef where you'll see bigger and brighter fish life.



You can hire bikes, snorkelling gear and more from Raci's Beach Club on Manase beach, they also organise tours. The Alofaaga blowholes are on Savai'i and you can also explore the lava remains from the Mt Matavanu eruptions. On the way to Manase you will pass through the Sale'aula lava fields where there are remains of lava ruined churches. It is also possible to climb to the crater of Mt Matavanu.



Manase Village


The villagers in Manase really take pride in their patch of paradise. No sooner will a weed sprout at the side of the road and someone will be removing it. The bus stops or rest stops surely have to be the most appealing around - bunches of bananas hang from them should you feel like a snack. Manase is also a dog free zone and it's no surprise Manase is known as the most beautiful village on Savai'i.





Turtles


We visited the turtle enclosure a few kilometres from Manase at Satoalepai. You can swim with the turtles and feed them papaya. Locals have removed the turtles from their natural environment and charge a cheap entrance fee to enter the enclosure. From a business perspective this is probably a successful venture and it's difficult to blame people for wanting a slice of the tourism pie. However from a turtle welfare perspective it may be less than ideal. Hopefully someone with the necessary knowledge will/or is monitoring the turtles welfare.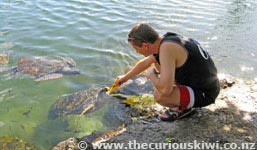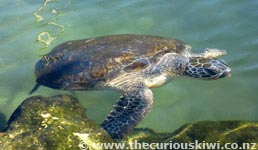 Lalomalava Village
Lalomalava village is a 5-10 minute drive from Salelologa and the ferry. It's a friendly place and one of the villagers told us it is second only to Manase in the most beautiful village stakes.



Savaiian Hotel


We spent two nights in a cute self contained fale at the Savaiian Hotel. (Units with aircon, TV, fridge & tea making facilities are also available). The dining area/bar is new and modern and faces the sea, it's a great spot to sit in the evenings. The pool could do with a bit of a makeover though and some kind of seats or loungers would be good. It's not a good place for swimming in the sea as there is no sand access but there are kayaks you can use, it can get windy though so take that into consideration when you're paddling toward the horizon.



The food was pretty good and really reasonably priced, although we thought the Hotel Association over sold the Hotel by saying it offered fantastic breakfasts, the best on Savai'i. We certainly had nothing to complain about however given the rave reviews by the Hotel Association staff we had expected something out of the ordinary. If you're looking for somewhere to stay close (but not walking distance) to the ferry this is a good choice. It's frequented often by groups of overseas nurses on work experience so this may be an additional attraction for some! Not forgetting what is often the very best part of travelling and that is the people you meet along the way - the staff at the Savaiian Hotel were lovely and helped make our stay in Samoa one to remembered.



Next time:

Attend a Fiafia (cultural performance and feast) - a Kiwi couple we met highly recommended the Fiafia at Aggie Grey's on Wednesday night. Hiring a car and exploring more of 'Upolu and Savai'i.



No comments have been provided.